Back in 2019, following my Single Op entry in CQWW CW ass G9Y, I was approached by Olof G0CKV who told me that he had plans to operate in the CQWW CW contest from Mauritius as 3B8M in 2020. We made plans and we were preparing to travel to Mauritius in time for the contest, however we encountered a well-known issue that many travel and Amateur Radio enthusiasts alike have encountered. The COVID-19 restrictions meant that we were uncertain how a trip to Mauritius would go. This was around the time when nobody knew what the virus was, and governments were beginning to instate restrictions on travelling and eventually full country lock downs. This meant that we would have to put this trip on hold until further notice. Of course, this went on for much longer than anyone anticipated, and we had a full year during 2020 when we were not allowed to travel at all and many of us were restricted to our homes, unless of course like me you were considered a "key worker". In which case, business as usual. The government and media tried to make us feel special by calling us "key workers" and even encouraging the Clap for the NHS to turn into the clap for key workers. But how special can you really feel whilst you are slaving away, most likely in some sort of service industry whilst the rest of your friends and family stayed at home enjoying what was an incredible summer for the UK. I digress.
Olof approached me again around mid-2021 with some information from the tourism authority in Mauritius where it was advertised that they would be lifting the travel ban and we would be able to take another attempt at this trip. Of course I was in!. Olof assembled a team of contest operators consisting of Kazu JK3GAD/M0CLF, Oliver W6NV, Denny KX7M, Olof G0CKV an of course me M0SDV. We all made our plans and booked tickets to travel to Mauritius in November 2021.
Some time before the trip I met up with Olof and Kazu at Olof's home near to London. This was a long drive for me however a good opportunity to get reacquainted before the contest. Olof had prepared VDA antennas and required the assistance of Kazu and I to tune then ready for deployment in Mauritius. We got this done quite quickly and afterwards we began working on radials for 160m. Now, 32x 25m long radials, measured, stripped at the end and put into bundles of 4 into the crimp connectors and rolling them all up neatly, is quite a laborious task; However, we were able to make light work of it.
Fast forward to November. Olof and his Wife Elizabeth were already in Mauritius enjoying a holiday before we all arrived. The checked into our accommodation in Roches Noires the weekend before CQWW CW and were joined by Oliver W6NV and Denny KX7M not long after. Kazu JK3GAD and I arrived the following afternoon. On our arrival, those who were already there had made a start on the antenna work and had 3 VDA's assembled on the ground ready to be erected. The unique location at L'Ilot provides a perfect operating facility for amateur radio operators and it has been used in earlier years by Olof and the team for their 2019 contest expedition, as well as being the QTH of choice for Nigel OE5TXF who operates often as 3B8XF from this exact location.
With part of the work already done, it was easy for me to jump right into station building work. We began putting up the VDA's with the bottom of the pole submerged in the salt water, with a clear ocean take off to Europe, North America, and Japan. We installed 2x stacked VDA's for 20m, and single VDA's for 15 and 10m. We also installed a 160m top loaded 'umbrella' vertical, 80m Inverted L and almost full ¼ wave vertical dipole for 40m. These were all located with their feet in the ocean. The 40m antenna was placed on a rock and the (waterproof) coax lay in the sand under water back to the shack, somewhat mimicking the efforts of the BS7H team on their Dxpedition to Scarborough reef, (more on this later).
Throughout the week we tested antennas as well as getting a feel for band conditions and when the best openings were happening around the world, which was a good time to practise for the upcoming CQWW CW contest which we were participating in. By doing this we were also able to shake down the station and working on any QRM issues which were to arise. And over the course of the week, we tested each of the stations to ensure full functionality throughout the entire station and work out any kinks which could cause us issues later.
During the contest we ran 4 operating positions, each equipped with an Elecraft K3 and then a selection of amplifiers including 2x SPE 1.3Kfa, 1x SPE 1.5kfa and an Elecraft KPA500 (with thanks to Clive 3B8CW for assisting). As can be imagined, running four stations with five operators was a challenging task, however we were able to utilise 3 station which would be permanently placed on bands which would not typically be open at the same time and one 'roving' station which would have access to all un-used antennas to catch band openings, multipliers and keep an eye on how propagation was doing. When contest time came, we arranged a schedule of who would operate on what bands and between what time. Personally, I was band lead for 15m, which I thoroughly enjoyed. The band was open from sunrise until long after sunset offering very high QSO rates and even more importantly, giving me an opportunity to sleep at night between band closing and re-opening the next morning. On average each day, I spend 15 hours in the chair with occasional short comfort breaks which were covered by anyone spare. Throughout the contest we found conditions to work reasonably well. 15m was open for the longest amount of time, there were good openings on 10m and 20. Throughout the night when the low bands opened, we continued to be productive, however we were hindered by local QRM which we could not isolate. Even so, we produced good results on all bands.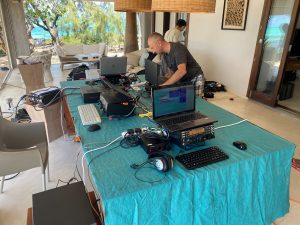 Following the contest, we were able to focus of some DXing and operating on some other WARC bands. 12m was operated due to popular demand and provided a good number of QSO in and across Europe. Following this we started to dismantle the station, which brings me onto the earlier link to BS7H.
Throughout the week we noticed that the 40m vertical was on a very large rock, similar in size and style to those on Scarborough reef. We decided to leave the 40m antenna up until the very last minute to we could take some pictures, and what would come next will be quite amusing for some. Denny KX7M and I went wading through the ocean with a small table, a chair and Denny braved his Elecraft K3 for the purpose of some photos and we set up on the rock in a spoof re-creation of the images from BS7H. We held up the latest Radcom and had pictures took where it looked like we had been operating from the rock during the contest. I personally was not into Amateur Radio at the time of BS7H, however it brought back some memories for those who are of this incredible DX-pedition that took part in 2007. Following our bit of fun, we packed the remaining antennas and gear down ready for the team to start departing.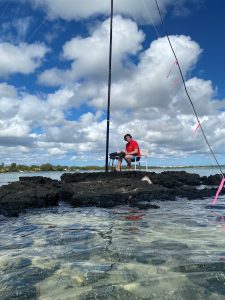 On the last evening we had a final team meal together, where we discussed how the contest had gone and developed ideas and plans on what we could have done better and what we intend to change for the next time round. Following some drinks, food and laughter on the following morning the team began to depart. Kazu and I were the first to leave, shortly followed the next day by Oliver and Denny and later Olof and Elizabeth would fly back to the UK. Easy right? Wrong! This was during a time where COVIF from African countries had begun to evolve and spread. The UK had introduced new isolation and testing measures meaning everyone travelling to Gatwick would require a different type of test, which meant quickly booking last minute PCR testing for arrival. And Those flying back to the USA would require PCR tests on Mauritius before they were allowed to board the aircraft home. This was a small hurdle and one we all navigated without too much trouble or extra expense.
This was a great trip and one I was pleased to be apart of. There is a lot to be learned by traveling the world, building a multi-multi contest station, and making more than 10 000 QSO's over one weekend. And that doesn't consider the QSO's made prior to the contest. The team intend to return in 2022, potentially with a change to the operators, but 3B8M will be QRV again!
73, Thanks for working us!