The Monach Isles, also known as 'Heisker', are a small group of islands located West of North Uist in the Outer Hebrides of Scotland. The islands which were once home to a small settlement of people and animals, however, have remained uninhabited since the last person left in 1942. Now the isles are a nature reserve, home to a number of bird species, a flock of sheep and one of the largest colonies of Seals in the world, among other things. Cean Earr was our island of choice due to it being the largest island within the group. This island was the main settlement before it was left to nature. The island contains an 1800's schoolhouse which is owned by a group who have family ties to the island. The house was renovated making it a good place for us to stay on the island, where is would be warm, dry and give us a place to set up base.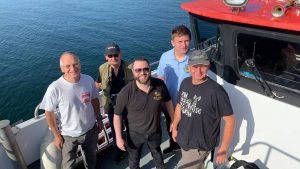 On Tuesday 20th JULY 2021, our team of 5 amateur radio operators consisting of Nobby G0VJG, Chris G0FDZ, Jamie M0SDV, Pat EI5IX and Tony G2NF set off on their journeys from their homes in England to make the long treck to Monach. The first stretch of the journey was to drive to Oban in West Scotland, where we would get a ferry to Barra, where the team met in a hotel and prepared for travel to the Monach's the following day. We all stayed overnight on Barra before taking our equipment to the jetty on Wednesday morning. We carried all of our gear down onto the jetty and we met our Boatman Angus and his crew on the 'Spirit of Hebrides' which would be the vessel to take us to the island Cean Earr in the Monach isles. The process of moving the equipment from the cars to the boat was a laborious one but once the boat was loaded we were on our way.
The journey to the Monach's took around two and a half hours across and unusually calm North Atlantic Ocean. During this journey we were slightly delayed as we approached the Monach Isle's as we were hailed by the Stornoway Coast guard who said there was a vessel which had run aground nearby, and the was not answering radio calls. We altered our course and went to investigate where we were able to get eye's on a grounded vessel, and after a while of trying we were able to establish a radio communication with the vessel, who confirmed that they were all safe and they'd mis-judged the tide. Once we were assured of their safety, we continued to the beach on Cean Earr where we landed.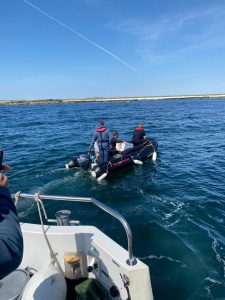 The next stage is where the hard work really began. Our task was to move all of the radio gear from the beach where we landed to the house where we'd set up the station. We quickly realised that the sack barrow that we had packed would not work on the rough terrain ahead. The house was a good 350 meters away and slightly up hill from where we landed, across bumpy ground made up of thick grass and many ditches and holes that we'd have to look out for. Luckily, we were able to find 2 wheelbarrows and even a boat trailer on the island which were a huge help in getting things moving. That said this was still no easy task and it took us around 4 hours of non-stop back and forth with heavy boxes, up and down ditches and a few trips and falls along the way. However eventually, we all made it into the house with the equipment to hand so we could begin setting up.
That evening we put up our WARC band dipoles on a Racal mast, 12m high. We placed this on a small mound that was near to the house which easily gave us an extra 2 meters in height. This allowed us to start working stations on whichever bands were still open. In this case 30m CW proved best to make a handful of QSO's before we continued with shack set up and eventually get some sleep after a long first day.
The next morning, we wasted no time at all in getting the rest of the antennas up. We split up into teams to get the most done. Nobby and Jamie went straight to work putting up the hex beam which would be our only directional antenna which covered 20 – 6m. Pat and Tony started constructing our 40 and 80m dipoles which went on the Racal mast with the WARC antenna, whilst Chris organised the shack set up inside, arranging operating positions, computers and switching, whilst still finding time to help with antennas in between tasks. Over the period of the day, we were able to get most antennas up which gave us a functioning contest station and minimal work to do Saturday morning before the contest.
On Friday evening, to our surprise, we saw a group of people on the island. Yes! Other people on this small uninhabited island in the North Atlantic Ocean, they'd set up camp on a rock in the distance. Presumably Yachters who needed a place to stay for the night. We saw them setting up camp in the distance on a rock near to where we had landed on the East side of Cean Earr.
Come Saturday morning all we had to do was install a 40m, 20m and 15m vertical and connect it to the switching unit. Whilst we were finalising this set up we were approached by the group of campers we had seen the evening before. They were interested in all of the masts and wire that were hanging all over the place. After a short conversation we were able to explain that we had arrived on the island to operate in an amateur radio contest, and we'd be here until Tuesday. They were very understanding of what we were doing and were even able to help us with some generator maintenance by providing some spare oil from their boat to keep us ticking over. Following this unexpected encounter we carried on working and by the time the contest came around we were ready to operate. Up to this point we had made minimal QSO's only on the WARC bands, this helped us maximise QSO's on contest bands over the weekend.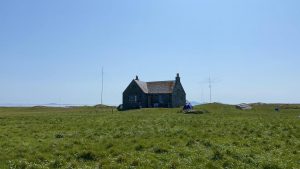 During the IOTA contest we opted for the multi 2 low power category, meaning we would run 2 radios simultaneously for the full duration of the contest. We started out on 40m and 20m SSB for the first part of the contest where 20m allowed high rate to Europe and 40m allowed us to get those 5 points "inter G" QSO's. Conditions throughout the contest were up and down and sometimes we found that we could easily work multipliers and get through pile ups and other times it took a lot of patience from the operator to ensure we worked as many multipliers as we could. Despite only running 100 watts throughout the contest, we were able to work a respectable amount of islands stations from all continents. At times we ran pile ups to Europe and North America but at other times search and pounce was the only way to keep any kind of rate, nonetheless we made 1892 QSO during the contest reaching a score of ….
Following the contest, we took some time to work all bands and modes that were open, and we had the capability to operate. We started making more QSO's across all bands instead of targeting only WARC bands like we did before the contest. As we were no longer bound by contest rules, we utilised a Juma PA1000 operating 400 watts on generator power, to enable us to work more DX including West coast North America and Japanese stations who were in need of the rare EU-111 as a new IOTA. We even managed to make some QSO's to Australia (VK) on 15m.
The tear down process was reasonably streamlined and much quicker that getting everything up. The vertical antennas were taken down fairly quickly after the end of the contest and everything else apart from the Hex beam was packed away on Monday afternoon, prior to our departure on Tuesday morning. We packed all non-essential items in waterproof boxes and began to stage equipment near to the beach so that there would be less journeys on Tuesday when the boat arrived to pick us up. We kept 1 radio, with the Juma amplifier and Hex beam running until the very last minute. This allowed us to continue making QSO's on Monday night whilst the bands were still open and maximise our time on the island.
Come Tuesday morning everyone was up bright and early in order to finish packing and make our way to the beach where we would meet the 'Spirit of Hebrides' and her crew. It is worth noting that this was the worst day we had in terms of weather as it was raining from when we woke up and continued whilst we were moving equipment from the house, back to the beach, this made it very difficult to move through the thick grass and made us all wet and cold, bringing team morale down, but we pushed through. The final radio was packed away and the hexbeam dismantled. We packed our personal items and began the long process of hauling the rest of the equipment back to the beach. Thankfully this process was streamlined due to our efforts the day before in staging some equipment ahead of time, however it was still no easy task.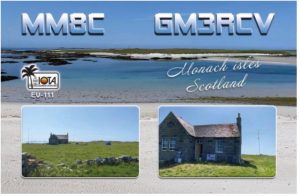 Once the vessel had arrived, the crew anchored off shore and made their way to us by zodiac. We loaded all equipment and operators over the space of two hours through the pouring rain and sea's much more active than when we arrived. When we boarded the 'Spirit of hebrides' it was made a priority to get changed into dry clothes so that we would not freeze on the long journey back to Barra. Following this trip back to Barra we were dropped on a different Jetty to what we loaded as this made it easier to get our kit directly into the cars. We made our way back to the hotel and checked in. It is at this point where you realise how much you take the little things for granted. Hot running water and the ability to have a proper shower was second to none, then clean clothes, real cooked food, and a cold pint. Writing this makes it sound like we were away for months, but you begin to miss the small home comforts even after only a week away on an island with no fresh water or electricity.
A lot of people came together to make this DXpedition happen and a huge thank you has to go to Angus and his crew on the Spirit of Hebrides, as without them we would never have made to the Monach isles and back. The crew were a great help and were willing to help us shift our equipment to and from the jetty and boat, their excellent knowledge of the sea and local islands made our trip smooth and go off without a hitch. A thank you also goes to the keepers of the old schoolhouse on the island who allowed us to stay in the house which kept us warm and dry and enabled us to operate on the island. Also, a huge thank you to Cray Valley Radio Society for use of equipment and help with funding the DXpedition.